Main content
The Transfusion Center of the Community of Madrid hosts a conference to promote bone marrow donation
The Transfusion Center of the Community of Madrid has hosted the first Bone Marrow Donation Promotion Day organized by the National Transplant Organization (ONT), aimed at health professionals, promotion and patient associations. The meeting included health professionals from several autonomous communities who brought to the different discussion tables the keys on how to reach the potential donor through information, and what are the formulas for success and difficulties found in promoting donation of bone marrow.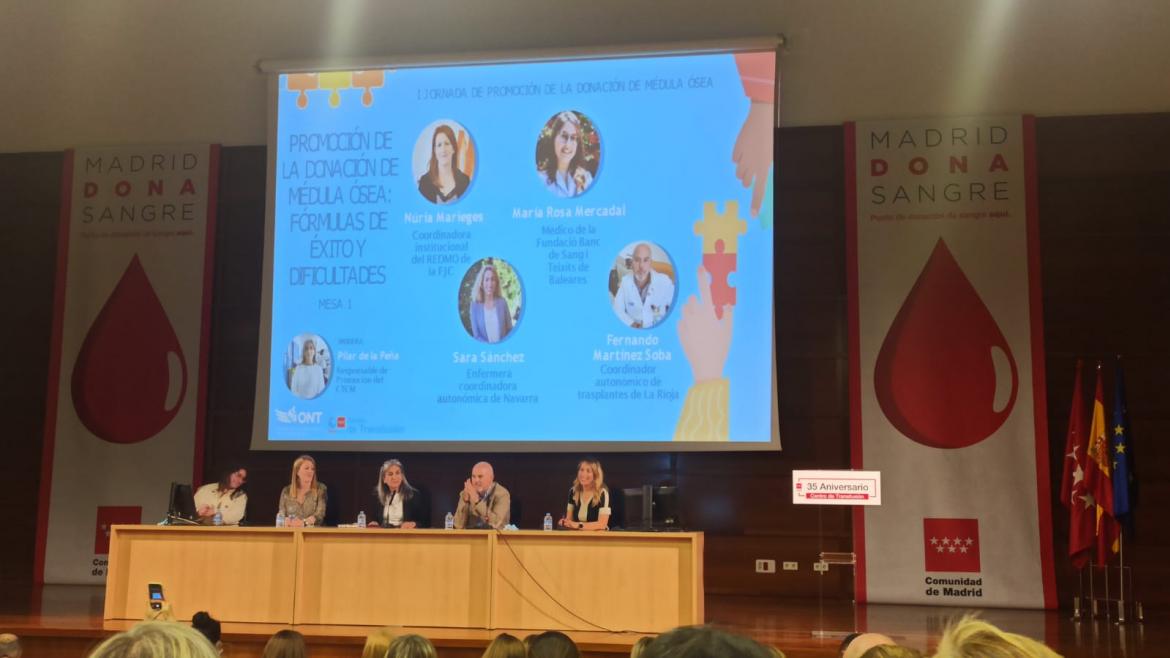 During the meeting, the coordinator of the Bone Marrow Donor Registry (REDMO) of the Josep Carreras Foundation, Nuria Marieges, presented the data on the current situation of the registry and encouraged all promotion professionals present to continue working to improve the data and keep saving lives.
Professionals from Navarra, Cantabria, the Balearic Islands, Catalonia, the Basque Country, La Rioja, Castilla La Mancha, Extremadura or Madrid brought to the different discussion tables the keys on how to reach potential donors through information and what are the formulas for success or what difficulties are found in promoting bone marrow donation.
Likewise, donor and patient associations were given prominence and the importance of using social networks as a means to promote bone marrow donation and to disseminate knowledge was also discussed.
More than 63.000 people registered as donors in Madrid
The Transfusion Center of the Community of Madrid organizes, under the motto Become a donor donate bone marrow, the University Bone Marrow Tour, a promotional campaign that goes around all the universities every year with the aim of informing about bone marrow donation and increasing the number of donors . In its fifth edition, which began in October 2022 and ended in 2023, it has obtained 1.214 new donors.
Likewise, it also collaborates in Learning and Services (ApS) projects with different institutes of the Community of Madrid with the aim of promoting the participation of young people in society and in their environment, betting on positive values ​​for their personal growth.
All these promotional actions contribute to increasing the Madrid registry of bone marrow donors and increasing the life chances of patients who need a transplant and do not have a compatible family member. The Community of Madrid has registered more than 63.000 people as bone marrow donors.