The Community of Madrid commemorates Europe Day with a poster contest in which more than 350 students participate
https://www.comunidad.madrid/sites/all/themes/drpl/logo.png
Region of Madrid
The Community of Madrid commemorates Europe Day with a poster contest in which 352 Madrid students from 5th and 6th years of Primary, Compulsory Secondary Education, Baccalaureate, Vocational Training and Special Education have participated to celebrate this event on May 9. This activity pursues the dissemination of the values ​​of concord, liberalism and democracy that support the European project.
https://www.comunidad.madrid/sites/default/files/lopez_dia_de_eruopa_concurso_3.jpeg
5679
3786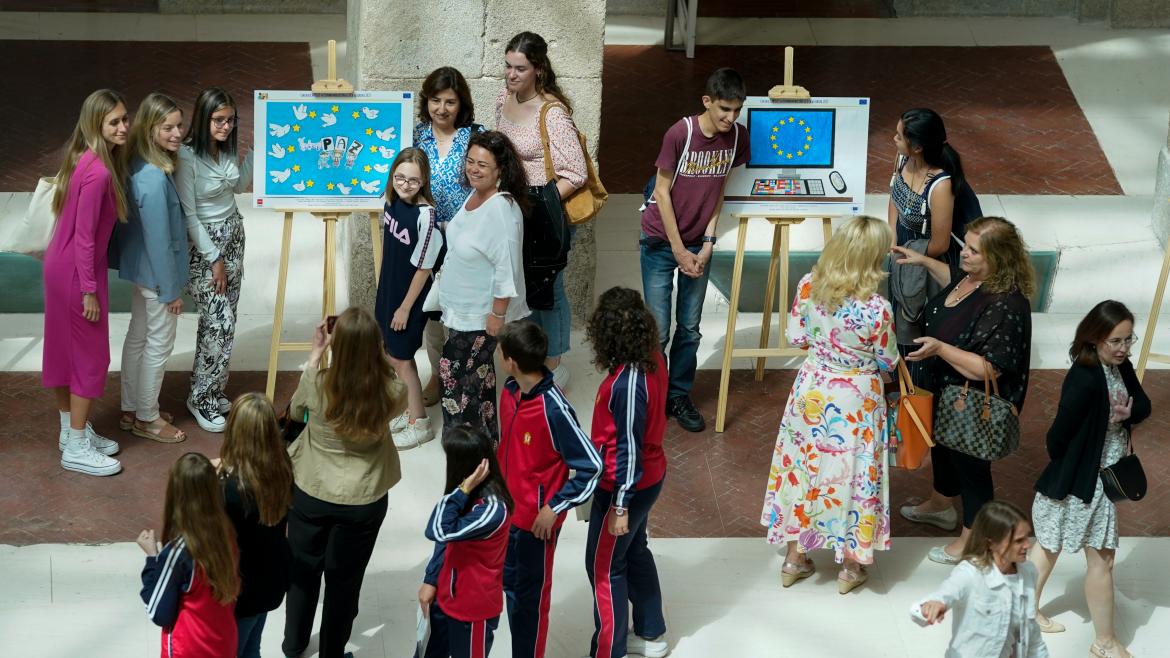 The Minister of the Presidency, Justice and the Interior, Enrique López, today presented the awards at the Real Casa de Correos, the headquarters of the regional Executive, to the 25 educational centers awarded for their work. The objective of this contest, which has been held since 2005, is to promote the rapprochement and integration of young people with the rest of the countries of the European Union (EU).
López stated that "the EU is the largest community of nations and the adventure of the most important civilization in the history of humanity. An economic and security space, with common cultural roots, which has sought the well-being of millions of citizens.
The 25 winning posters of the contest have been selected by an Evaluation Commission that has rated their artistic quality and originality, taking into account the different educational levels and ages of the participants.
These recognitions have been sponsored by entities such as Anaya publishing house or Cambridge University, which have donated batches of books; Faunia with the delivery of vouchers to visit the Natural Park; the Warner Parks, the Madrid Zoo Aquarium and the Attractions Park, which have given tickets to the winning students. There have also been shirts signed by the Atlético de Madrid, Real Madrid, Leganés and Getafe clubs, as well as educational material from the Office in Spain at the European Parliament.
122 posters in this year's edition
School centers have presented 122 posters this year, using drawing techniques with crayons, oil, watercolor, mixed media or computer graphics. "Solidarity, unity and freedom are present in them, which are part of European ideals", López highlighted before a large audience made up of teachers, students and managers. The awards have gone to schools in municipalities such as Arganda del Rey, Alcorcón, Fuenlabrada, Pozuelo de Alarcón or San Martín de Valdeiglesias, among others.