SO 1: Coordination and cooperation
STRATEGIC OBJECTIVE 1: COORDINATION AND COOPERATION

Improving coordination and cooperation between all territorial levels makes it possible to guarantee the provision of services to all citizens regardless of their place of residence. For this, it is important to define and articulate spaces for inter-municipal cooperation through voluntary formulas of an associative nature, as well as to promote and order the associative and consortium processes of local entities and proposals in terms of territorial organization.
Monitoring of the Strategy to Revitalize Rural Municipalities
In order to revitalize the municipalities of less than 2.500 inhabitants in the Community of Madrid, the following has been achieved:

Of the total of 100 measures: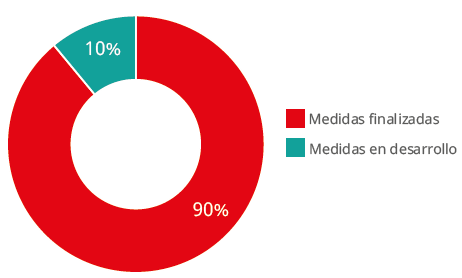 The 78 municipalities objective of the strategy, with less than 2.500 inhabitants:

Promotion and support to associations of municipalities
The DGRT processes the files related to the competences that the Community of Madrid has attributed in Law 2/2003, of March 11, of Local Administration of the Community of Madrid, regarding the constitution and dissolution of associations of municipalities and modification of the statutes by which they are governed.
The Associations of General Interest are created (Law 11/2022 of December 21, on Urgent Measures for the Promotion of Economic Activity and the Modernization of the Administration of the Community of Madrid)
The process of reorganization of associations of the Sierra Norte begins.
The statutory adaptation of MISECAM begins, to constitute itself as a Commonwealth of General Interest
Economic aid to the Associations to finance current expenses increases: from €69.900,00 to €430.029.81
Support to municipal groups
In order to improve the technical capacity of municipal management that prevents small municipalities from meeting the demands of their neighbors, the DGRT supports the constitution of groups of municipalities to improve administrative management, as well as subsidizing sustained jobs. in common. In 2022 the purpose, object and amount of the aid will be extended.

Support for the Federation of Municipalities of Madrid
We finance the operating expenses and activities of the Federation of Municipalities of Madrid, an association constituted by local autonomous entities for the protection and promotion of their common interests with an economic endowment of €490.000.
Register of Local Entities of the Community of Madrid
Approved by Decree 6/2017, of January 31, of the Governing Council, which regulates the organization and operation of the Register of Local Entities of the Community of Madrid
Download Activities Report