Díaz Ayuso congratulates Atlético de Madrid Femenino on their second Copa de la Reina: "They are a model of pride and inspiration for many women"
https://www.comunidad.madrid/sites/all/themes/drpl/logo.png
Region of Madrid
The president of the Community of Madrid, Isabel Díaz Ayuso, today received the players, the coaching staff and the directors of Club Atlético de Madrid Femenino at the Royal Post Office, headquarters of the regional government, to congratulate them on their second Copa de HM the Queen after beating Real Madrid in the championship final, held last Saturday at the Butarque Stadium in Leganés. The members of the team are "a model, a source of pride and an inspiration for women of all ages, especially girls, who project their dreams watching them and who see how they fall, get up, suffer, celebrate and that is the strength that moves the world", highlighted the president.
https://www.comunidad.madrid/sites/default/files/isabel_diaz_ayuso_atletico_de_madrid_deporte_5.jpeg
5651
3767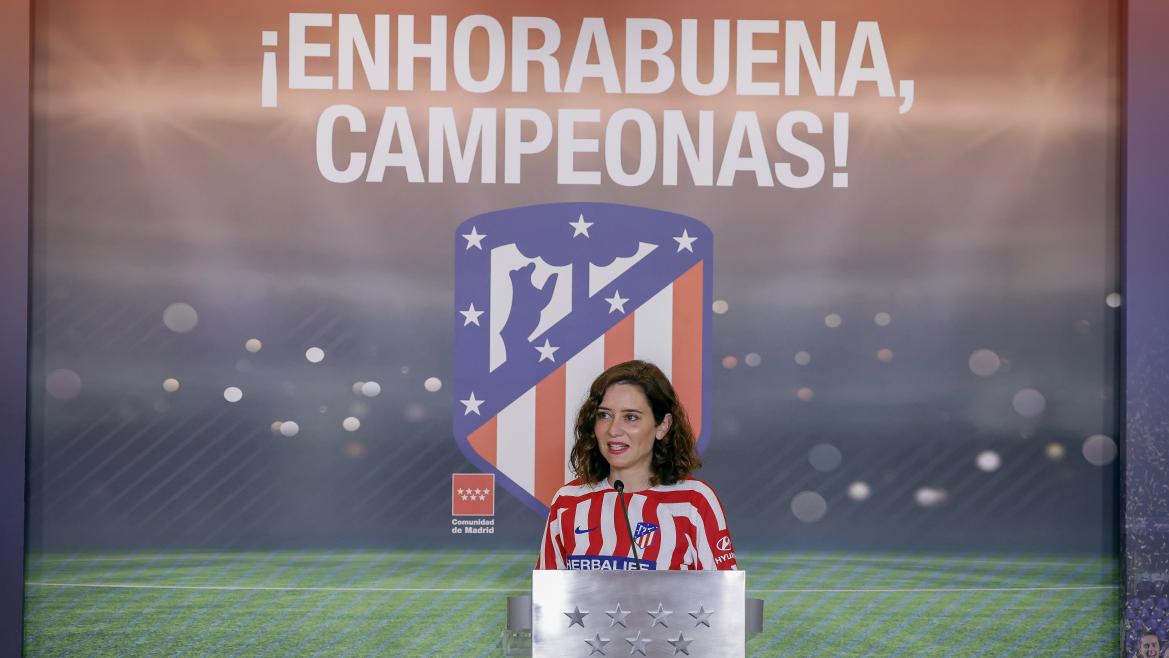 "We are witnessing the explosion of women's sports in Spain... there are many women in all corners of Madrid at all levels who are overcoming so many barriers and who stand out in the same way or more than many of their peers", he added. Díaz Ayuso, who has defined the team as "brave, hard-working and happy, just like the region". The Madrid team has been adding titles to its record in recent years. In the 2020/21 season, they won the Women's Spanish Super Cup; and also, it has three First Division League titles (2018/19, 2017/18 and 2016/17). The previous Queen's Cup was achieved in the 2015/16 season.