Main content
Almost 200 people participate in the blood donation marathon at the University Hospital of Fuenlabrada
IN COLLABORATION WITH THE TRANSFUSION CENTER
The University Hospital of Fuenlabrada has hosted a new blood donation marathon organized in collaboration with the Transfusion Center of the Community of Madrid under the motto "¡Suma vida!" and that has achieved the participation of 184 people.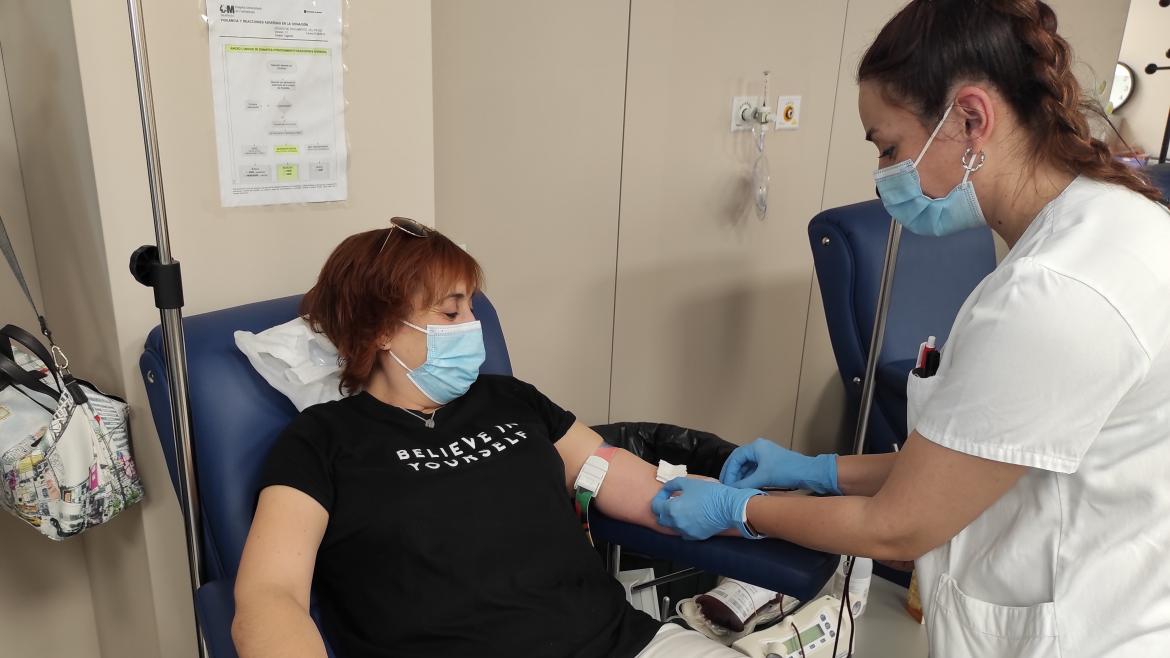 This initiative to reinforce blood reserves and respond to the demand in Madrid hospitals has made it possible to obtain 137 effective donations, all thanks to the collaboration of the citizens of Fuenlabrada, Moraleja de Enmedio and Humanes de Madrid and the hospital workers themselves who They have come to donate blood.
Likewise, to carry out this appeal for donation, nursing professionals, physicians, maintenance workers, hospitality and general services and all those involved in the logistics and development of this marathon have contributed; in collaboration with the Transfusion Center staff.
In this line, the Hospital Classroom of the University Hospital of Fuenlabrada has participated with the decoration of the main hall and the donation room with drawings made by hospitalized patients. In this way, the hospital has had attractive signage to draw the attention of the users of the center and a participatory mural where donors have left their names written on notes that simulated drops of blood. In addition, the students in the classroom have worked for weeks on concepts related to blood donation through these works and a comic made in the educational space itself.
Collaboration of different entities
The Fuenlabrada University Hospital appreciates the collaboration of the Fuenlabrada Basketball Club and the Fuenlabrada Football Club who have supported this action by providing tickets for their respective matches with the aim of encouraging blood donation among the general population and the hospital center's own professionals.
On the other hand, both sports teams have collaborated in the dissemination of the blood marathon as well as other entities such as the National Police, the Fuenlabrada City Council, the Humanes de Madrid City Council, the Moraleja de En medio City Council and the neighborhood associations of Fuenlabrada.
Blood donation at the HUF
Blood is an essential good, which is only obtained by donation and which is necessary to treat multiple pathologies and interventions: at the University Hospital of Fuenlabrada, 4600 units of red blood cells are transfused per year, 500 units of platelets and 600 units of fresh frozen plasma . Donating blood is a simple and hardly annoying gesture that does not last more than 20 minutes and allows one person to help three different patients with their blood.
Apart from increasing blood reserves with this type of initiative, the aim is to make the population aware of the need to donate blood periodically so that hospital activity can be properly maintained. For this reason, people who wish to donate blood at the Fuenlabrada Hospital can do so from Monday to Friday in the donation room, located in the Extractions pavilion, from 10:00 a.m. to 20:00 p.m.